For business owners, there are a lot of things to think about. Sometimes too many things. And with so much going on, it's easy to forget about parts of the business that literally can't be seen all the time. Parts such as the external areas. It could be that every time the owner parks in the untidy car park, walks through the messy outside eating area, or notices the messy smoking zone they think that they must do something about it… and then once they are inside and working, they forget completely until the next time they see it. And then the cycle repeats itself, and all the time the mess is getting worse and worse.
After all, who is going to clear it up?
If it's no one's job and everyone uses the external areas, no one will clean it and everyone will make it messier. Perhaps they won't even realise they are doing it, but when somewhere is a mess there is no incentive to keep it looking nice. There will be food wrappers, cigarette butts, paper plates and coffee cups all over the place. Not only that, but leaves, twigs, blossom and other natural debris can also cause problems. It may not necessarily be considered litter, but it is unwanted nonetheless.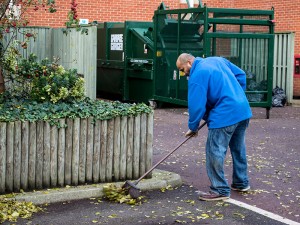 And the main problem with these external areas being so untidy is that everyone can see them. It's not as though they can be hidden away behind a closed door. Visitors, customers, clients, employees, bosses… they will all use the car park and the outside seating area, they will all need to step outside at some point, even if it just for a breath of air. They will see the mess and it will give a poor impression of the company – it will look as though you just don't care. That could cause them to wonder whether you care about the rest of the business, and might make them no longer want to work with you or for you. They may not want to spend their money on you.
So that's the mess. But what about the smell? It is especially important to clear up waste food if it is causing litter because that will begin to rot and when it does it will smell terrible. It will bring rodents and pests to your building, and it could even make people ill.
As for the blossom (in spring), the leaves (in autumn) and the general muck and mess all year round that can be found in a car park, if that is left it could become a slip and fall hazard for pedestrians, and it could even be a problem for cars since they could skid on the uneven ground.
In the end, it will save you money if you make sure your external areas are clean and clear – even if you pay a third party to tidy them for you.
External Areas: Why It's Important To Keep Them Tidy