Renting a house has many positive aspects to it – it is flexible, cheaper than buying, and, depending on your tenancy agreement, repairs are dealt with by someone else. But despite this, you still need to take care of the home you are living in and remember that although you're in it, someone else owns it, and really you're just a caretaker until the time comes for you to move on.
And when that time does come, as it inevitably will do – perhaps you've got a new job in a different town, perhaps you've decided to buy a house, perhaps you just want a change of scenery – there are a few things that will have to be done before you can hand the keys back and bid a fond adieu to the place you once called home.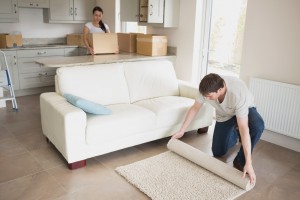 One of those things is the end of tenancy clean. End of tenancy cleaning is a deep clean of the entire property from top to bottom. It's likely you will have cleaned up once a week or so, and vacuumed when it was needed, but a deep clean probably won't have been done since just before you moved in, when the last tenants organised an end of tenancy clean. The clean should not only deep clean the obvious places such as the carpets and windows, but should also focus on the less obvious including the skirting boards and behind cupboards. The property will need to look like new (as far as possible).
In order to have your end of tenancy cleaning done as well as possible, it ideally will need to be carried out when the house is empty – it is the last job on the list. And it is a good idea to hire professionals to carry out the work so that you know it is done as it should be.
But why is getting a good – great – end of tenancy clean so important?
It all comes down to money. Your money. Your deposit.
If you want to receive your full deposit back swiftly, you will need to leave the property you were living in in as good a state – or better – as when you moved in. Moving is an expensive time, and anything that delays, reduces, or stops your deposit being returned altogether can have a serious impact on your finances. By simply hiring an excellent team of end of tenancy cleaners, you can save yourself a lot of trouble.
End of Tenancy Cleaning: Why It's The Most Important Thing To Do