Anyone who has ever lived in a rented flat or house knows that they are really looking after it for the owners. It's a form of caretaking, except rather than being paid to do the job, renters pay for the privilege of keeping someone else's property in tip top condition. But that's what it's all about – and those who choose to rent understand that going in.
But what happens when it's time to move out? Apart from all the packing and house hunting, the reassessing of finances and the mild to huge panics that take over from time to time, what is the most important thing that needs to be done?
It's the end of tenancy clean.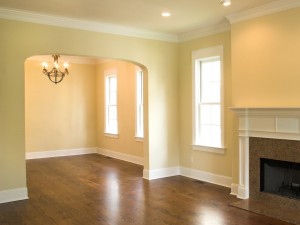 The end of tenancy clean is a super deep clean of the entire property. It should include all windows, window frames, skirting boards, the interior and exterior or cupboards (particularly kitchen ones as these can get very mucky), all bathroom fittings, lamp shades and pretty much everything else in the house.
Nothing should be missed out.
It is usually done once all of your furniture has gone, allowing for a complete top to bottom clean without anything being in the way. And it's usually done by experts. Of course, it is entirely possible to do your end of tenancy clean by yourself, but it will take many hours – perhaps an entire day – to get it up to standard, and if you don't have the time to commit to it, you'll be better off hiring someone else to do it.
But why is this sparkling, whole house clean so important? When you moved in there will have been a checklist of what was in the house, what the rooms looked like, what state it was in. When you leave, the property needs to be in the same state, or better. If not, if there are any quibbles or issues at all, your deposit might not be returned in full, if at all. And if it is, then it might be delayed. Money is always tight when it comes time to move, and finding that the deposit return you were relying  on isn't forthcoming can cause serious issues.
End of Tenancy Cleaning: Why It's The Most Important Thing To Do